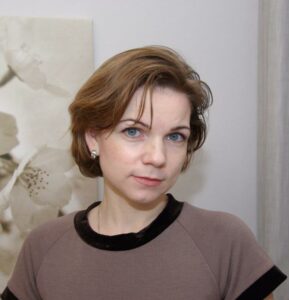 Position
Senior Researcher
Assistant professor at the Faculty of Educational Psychology
Education and Degrees
2001 – Honors Degree in Pedagogy and Methodology of Preschool Education (Moscow State Pedagogical University).
2005 – Ph.D. (PhD thesis "Influence of the educational situation of the kindergarten on preschoolers' cognitive activity".
Further training
2020 – Organization of tutor's activities in the work with children with disabilities and special educational needs (ANO DPO "Education – Capital", 16 hours);
2020 – Organization of education and training of children with disabilities in inclusive and integrated education (FSES DO). (DPO «Educational center « Open Education»», 72 hours).
2018 – Current challenges of medical psychology (Russian Medical Academy of Continuing Professional Education of the Ministry of Health of the Russian Federation, 144 hours)
2018 – Technologies of inclusive education in higher education (with the use of ICT and e-learning, 72 hours);
Research interests
childhood

developmental psychology

educational psychology

children's subculture

development of children's initiative

preschoolers' play and toys

interaction of the teacher with preschoolers

digitalization of preschool childhood.
Disciplines and courses taught:
BA program courses:
Workshop on early and preschool psychology;

Workshop on family counseling;

Consideration the age and individual capabilities of children in supplementary education;

Workshop "Preparation of a portfolio of educational results of students of preschool and primary school age in supplementary education."
MA program courses :
Design and monitoring of individual education and socialization programs;

Workshop "Pedagogical assessment of the individual development of preschoolers";

Children's play and its place in preschool education;

Effective interaction of a teacher with children;

Narrative approach in work with preschoolers;

Scientific and methodological seminar "Possibilities of individualization of educational work with preschoolers";

Narrative play;

Children and computer;

Diagnostics of development in the system of preschool developmental education;

Consulting teachers and parents in the system of preschool developmental education.
Language Proficiency
English
Key publications in Russian (abstracts in English):
The child in the age of digital toys. Review of foreign studies. Klopotova E.E., Smirnova S.Y. Sovremennaia zarubezhnaia psikhologiia = Journal of Modern Foreign Psychology, 2022. Vol. 11, no. 2, pp. 50–58. doi:10.17759/jmfp.2022110204. (In Russ., аbstr. in Engl.)

Computer Games as a Factor in the Cognitive Development of Preschoolers. Klopotova E.E., Romanova Y.A.

Vestnik prakticheskoi psikhologii obrazovaniya = Bulletin of Psychological Practice in Education, 2020. Vol. 17, no. 1, pp. 32–40. doi:10.17759/bppe.2020170104. (In Russ.,

а

bstr. in Engl.)

Possibilities of Using Board Games to Develop Communication Skills in Children with Autism Spectrum Disorder. Klopotova E.E., Krupnova I.Y.

Vestnik prakticheskoi psikhologii obrazovaniya = Bulletin of Psychological Practice in Education, 2020. Vol. 17, no. 1, pp. 41–50. doi:10.17759/bppe.2020170105. (In Russ.,

а

bstr. in Engl.)

Manifestation of Initiative in Preschool Children in the Process of Interaction with the Teacher.

Klopotova E.E., Yaglovskya E.K.

Psychological-Educational Studies, 2019. Vol. 11, no. 4, pp. 90–98. doi:10.17759/psyedu.2019110407. (In Russ.,

а

bstr. in Engl.)

The use of «serious gaming» in educational work with children. Klopotova E.E., Kuznetsova T.Y.

Sovremennaia zarubezhnaia psikhologiia = Journal of Modern Foreign Psychology, 2017. Vol. 6, no. 4, pp. 41–45. doi:10.17759/jmfp.2017060404. (In Russ., аbstr. in Engl.)

Age Specifics of Cognitive Activity Development in Preschool Age. Klopotova Ye.Ye., Samkova I.A.

 

E-journal «Psychological Science and Education psyedu.ru» ["Psychological-Educational Studies"], 2017. Vol. 9. № 2.

С

. 25–37. doi: 10.17759/psyedu.2017090203

Features of Value Orientations of Modern Preschoolers. Klopotova E.E.

Psikhologicheskaya nauka i obrazovanie psyedu.ru [Psychological Science and Education psyedu.ru], 2017. Vol. 9, no. 1, pp. 96–105. doi:10.17759/psyedu.2017090110. (In Russ.,

а

bstr. in Engl.)

Communicative motivation as a factor of successful foreign language acquisition. Klopotova E.E., Arutiunian A.

Preschool education, 2020. No. 1, pp. 87-93

Age characteristics of the manifestation of initiative in educational activities of preschoolers.

Klopotova E.E., Yaglovskaya E.K.

 

Educational issues,

2019.

No

. 3, pp.

S

.224-237.

Doi

: 10.17323 / 1814-9545-2019-3-224-237.

Features of preschoolers' drawing activities with the help of traditional and electronic means. Klopotova E.E., Gazanchyan E.B.

Modern preschool education. Theory and practice, 2017. No. 8, pp. 24–31

Computer games in the lives of modern preschoolers.

Klopotova E.E

., Romanova Y.A.  

Preschool education, 2014. No .7, pp. 7-14.

Psychologization of preschool education in the works of O.M. Dyachenko (to the 70th anniversary of the birth). Smirnova E.O., Klopotova E.E.

Kul'turno-istoricheskaya psikhologiya = Cultural-Historical Psychology, 2018. Vol. 14, no. 2, pp. 109–115. doi:10.17759/chp.2018140212. (In Russ.,

а

bstr. in Engl.)
PsyJournals profile:  https://psyjournals.ru/en/authors/a62889.shtml