Olga Rubtsova, head of the Center for Interdisciplinary Research on Contemporary Childhood, took part in the International Congress "Freire and Vygotsky international conference: for an emancipatory education". The congress was organized by the Federal University of Santa Catarina, the centennial of Paulo Freire's birth and the 125th anniversary of Vygotsky's birth.
The International Congress "Freire and Vygotsky: for an emancipatory education" is a scientific event that brings together the academic community, undergraduate and graduate students, researchers interested in the ideas of Paulo Freire and L.S. Vygotsky. The conference aims at contributing to disseminate and update the legacy of these two thinkers, whose work was devoted the integral and emancipatory study of man. Although they lived in different hemispheres, their approaches emphasize fundamental facets of social and educational transformations, which are profoundly interrelated. Both Freire and Vygotsky fought for a world in which it would be possible for everyone to have access to the historical achievements of humankind, affirming their inventive power to pursue a just society.
On November 10, 2021, Olga Rubtsova spoke at the session "Play, Drama and Human Constitution", presenting to the scientific community the report "Drama" as a Tool for Constructing Developing Learning Environments in Adolescence.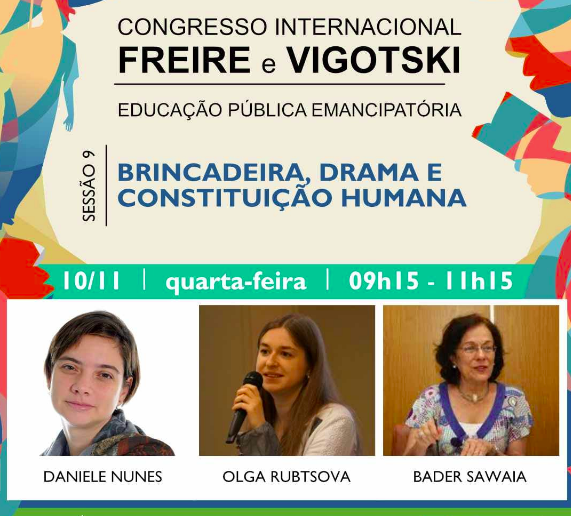 Olga Rubtsova emphasized that not any kind of drama-based activities is consistent with the principles of a developing environment in the framework of the Cultural-Historical Paradigm. Creating such a setting is a challenging research task, which requires organization of such types of activity and interaction as role exchanges and reflexive communication. On the example of the research project "Digital Storytelling Theater" of creating a play with a class of adolescents, it is demonstrated how drama, based on role experimenting, can contribute to overcoming group contradictions, boosting learning motivation and turning personal "pereghivanije" into a resource for development (on the experience of living through the pandemic of COVID-19).
Olga Rubtsova's report arouse interest and a positive response from the scientific audience of the International Congress. At the end of her speech, Olga Rubtsova invited the participants to continue the discussion on the CIRCC website and on social networks.